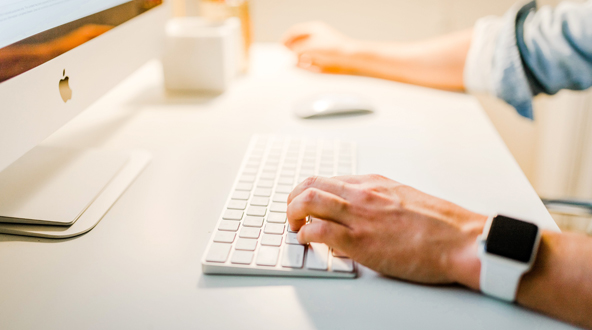 On-page SEO is one of the sureshot ways to optimize the elements on a webpage to help attract readers as well as search engines' attention to eventually rank higher. With the SEO landscape rapidly changing, you have to look beyond the confines of Meta Descriptions and Title Tags and consider a broader On-page SEO strategy that will steer through and define success in the long run for you. However, if time is a constraint and you have a big pitch with the client coming up soon, here's something to help you with. It's quick, but it is definitely not a quick-fix. It's just the foundation to build an all-encompassing SEO strategy on.
Improve Written Content
Just how many times have you read or been told that it all starts with quality content and that it is "king". We bet you've lost count by now. If you are to convert your audience into paying customers then it is imperative you provide high value to them by way of superior, engaging, query-addressing, and wholesome content. Oh and, it ranks higher as well.
Maintain Optimum Keyword Density
While there is no hard and fast rule as to how many times you should use a keyword, no, placing it as many times as possible in the page's content is not the answer. That is called keyword stuffing and it can impact your website's ranking in a negative way. The keyword and its placement should flow naturally along with the written content.
Short, Descriptive Page URL
Every page on your website has a unique URL, and it absolutely can't be auto-generated, or long and complicated. You need to take some time out to ensure that every URL on your website is optimized, has the target keyword, is short and sweet, and immediately gives the idea to Google as well as your audience what the page is all about.
Concise Meta Description
Meta Descriptions (those things may not be a direct ranking factor but they help a website gain better rankings in more than one way. A concise, well-written, and informative Meta Description can change readers' perception about the quality of result, act as a window to your website, and thereby boost a website's Click-Through-Rate (CTR).
Optimize Title Tags
A Title Tag, simply put, is the name of the webpage that appears on SERPs. A poorly written, missing, or duplicate Title Tag can all negatively impact your site's SEO and subsequent rankings. Keep it under 60 characters, put the target keyword in the beginning of the title, avoid using all caps, and most importantly, keep it relevant and honest for your readers.
Optimize Header Tags
They aren't the same as title tags, as people often confuse it to be, but they are as important. Using multiple headers (H1, H2, H3, and so on) can help your page in several ways, directly and indirectly. For one, it makes it easier for the readers to grasp the content, making them read it rather than abandon it, increasing the overall user experience, which is of prime importance.
Write Video and Image ALT Text
ALT Text is the description behind an image or a video that doesn't appear on the website unless the visuals aren't rendering properly, making it easier to understand what the missing piece of the puzzle is. And more importantly, Google just won't index your visuals unless backed by proper ALT Text; make sure to include your target keyword in it.
Optimize Images
While people are beginning to understand the value of visuals on their websites, many still forget or simply overlook one of the most important related factors – Image Optimization. Some images can slow down your website to a great extent. And that is why it is important to optimize (compress) each for better user experience, faster page load time, and higher ranking opportunities.
Internal and External Links
While internal links point to content within your website, external links point to content on other websites, at times providing a deeper understanding of the content but always building on reader's trust. And also, providing external links, naturally, is an important ranking factor, just as important as getting a backlink is. If you aren't kind enough to put external links, expect little in terms of getting backlinks as well. To ensure that your On-page SEO is at par with the rest of the SEO strategies you've been following so diligently, conduct regular On-page Audits. In doing so, you will improve your chances of generating high-quality leads and conversions.